Wooden Wine Racking Inspirations for Your Seattle Wine Cellar
Gathering design inspirations for your upcoming wooden wine racking project in Seattle? Don't miss this page as we share one of our projects with master wine cellar designer Steve Pantalemon! This unique wooden wine racking was entirely tailored to fit the space and features curved corners and a unique inventory system that you could copy in your own wine cellar! Continue reading to learn more about this project. 
Custom Alder Wooden Wine Racking Design and Construction
Despite the very solid and rustic nature of wood, wooden wine racks are actually very versatile. You can use them in traditional wine cellars, and you can also use them in more modern wine cellars to make them look contemporary or transitional. But unlike metal and glass, you have more hardwood varieties to choose from for your wooden wine racking; each having a unique texture, grain pattern, pliability, and the ability to absorb the stain. 
Choosing the kind of wood to use in your wooden wine rack will depend on the design you want to achieve and the space you will put it in. That's why consulting or working with a custom wine cellar specialist who knows the technical sides of building wooden wine racks well is important.   
Type of Wood Used for this Wooden Wine Racking
Some of the most commonly used hardwood varieties for wine cellar furnishings include Mahogany, Oak, Redwood, Alderwood, Pine, and Cedar. Among all the varieties, Mahogany is the most durable. But we decided that Alderwood was the best option for the shape of the wooden wine racking we wanted to achieve here.   
Alderwood is a type of hardwood that's more on the softer spectrum. It's more pliable than Mahogany, so it's perfect for creating curved racks, which you can see on the corners of this project's wooden wine racks. Since the wine room's space had really sharp corners — similar to an alcove with two walls on the sides — we wanted to make the space more open and inviting. So we decided to bring in a custom-built, U-shaped wine rack.  
Compartment Selection 
Our design for this project was a wooden wine rack that stood from floor to ceiling. There's a lot of space for more compartments, and you get to be more creative! When you're goal for your wooden wine rack is to maximize stocking capacity, it would be best to stick to a single type of compartment. For example, you can have all standard 750 compartments or all diamond bins. However, if you want to add more flair to your wine cellar, mixing and matching compartment styles would be a good way to go.   
In this wine cellar rack, here are the styles we combined: 
Single 750s

 

High-reveal Display rows

 

Horizontal racks for magnums

 

Cubbies for wine crates 

 
Vertical shelves 

 

Decanting tabletop (alcove-type)

 
If you split the wooden wine rack in half vertically, you'll notice that each half is a mirror image of the other.  On both ends of the U-shaped rack, the four vertical shelves display the owner's most interesting wines, gins, brandies, etc.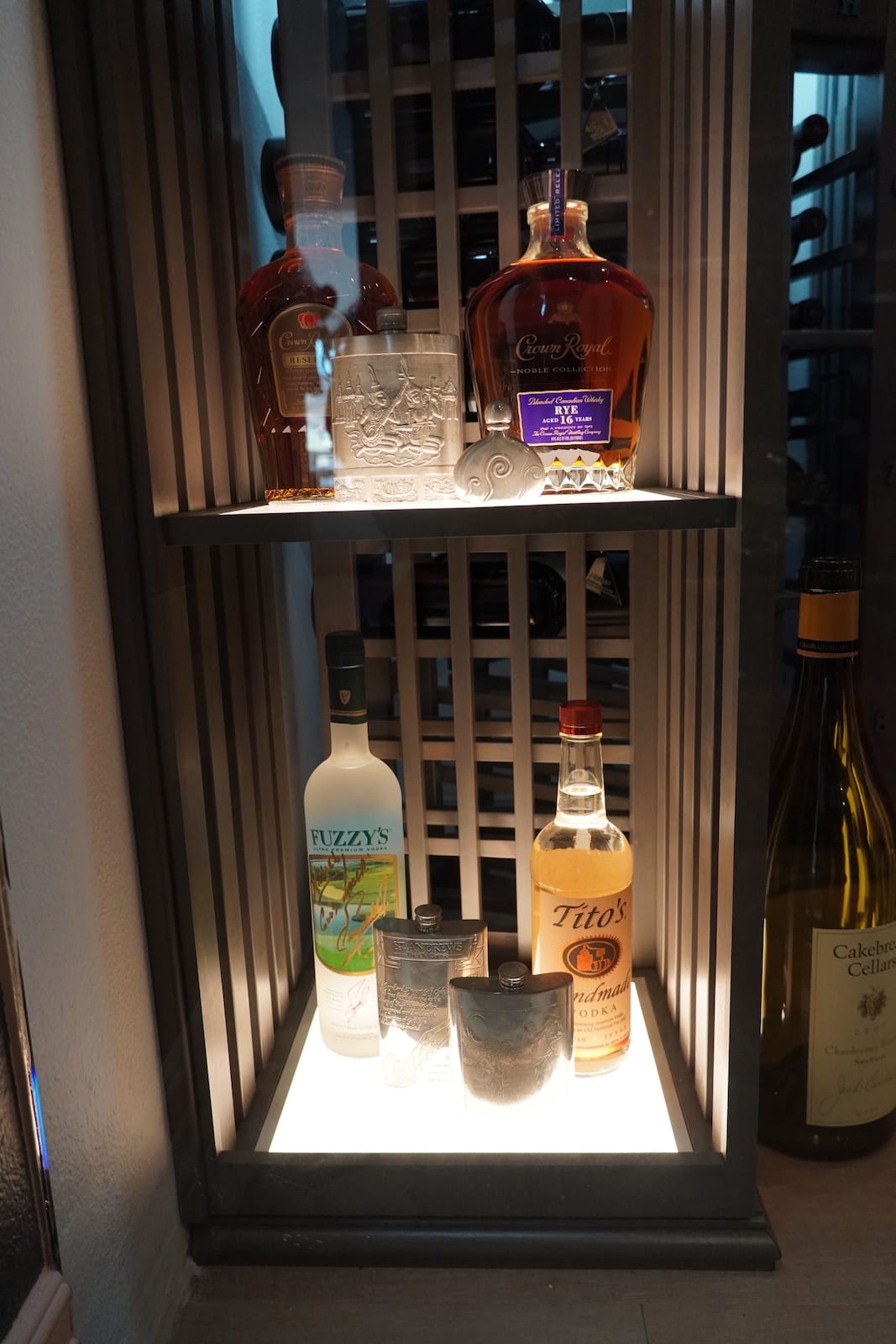 Between the vertical shelves, you'll see two rows of high-reveal display racks running the entire half of the wooden wine rack. Besides the vertical shelves (next column of compartments) are the single 750 compartments, followed by the magnum horizontal shelves and the cubbies.   
The centermost part of the wooden wine rack is where we installed the decanting space. We lined the tabletop with marble and installed upside-down stem racks above that decanting table. Before constructing the wooden wine racks, the owners traveled to Napa Valley and got an artwork as a souvenir. That's what you see displayed on the backdrop of the decanting space (the grapes).      
Overall, this entire wooden wine rack could hold more than 400 bottles! 
Apart from its pliability, Alderwood also stains well. We stained the entire wine rack with a greyish paint and finished it with lacquer, so the resulting surface is smooth and slick!  
The Perfect Glass Enclosure + Wine Cooling System Combination
All wine cellars must be maintained at a certain temperature and humidity, so the wine continues to age well. Even with the cool temperatures in Seattle, you need to secure your wine cellar because we never know how the weather will fluctuate (not to mention the temperature inside the wine cellar needs to be maintained 365 days of the year, regardless of the season outside).  Just imagine a refrigerator; a wine cellar is pretty similar to it!  
To achieve this kind of environment in a glass door-enclosed wine cellar, we sealed all the edges of the glass panels with weather stripping.  In addition, we installed a commercial-grade, split-system cooling unit and mounted the air inlet and outlet on the ceiling of the wine cellar, so you don't see any coils and metals hanging around the cellar. 
Modern Wine Cellar Lighting Solution 
The one thing that can instantly transform your glass wine cellar into something posh is the lighting. There are tons of wine cellar lighting options in the market, but we opted to combine custom-made lighting and over-the-counter lighting for this wine cellar.  
Looking through the photos, you might think that the wine cellar and wooden wine racks are set against a large window because of the bright light behind them. But this is not the case! The entire wall is actually a light panel, custom-made to fit this wine cellar! We installed LED light panels on the interior wall and covered it with a large white acrylic board to soften the light.  This way, even if the LED lights are bright, they wouldn't hurt the eyes at all.  
Design Your Own Wooden Wine Racking With the Help of Custom Wine Cellars Seattle!
There's always a solution to your wine cellar concerns with time and hard work! And that's what we promise to deliver here at Custom Wine Cellars Seattle.  We always create wine cellars that are unique to every owner because we believe that every wine cellar is a reflection of each owner or collector's unique character and personality.  
We'd love to brainstorm ideas with you and create the best wooden wine racking for your valuable wine collection wherever you want to place them in your home, including the basement!
Call us today at  +1 (206) 792-9912 and tell us all about your collection! 
Custom Wine Cellars Seattle serves all locations in Seattle, including Denny-Blaine, Broadmoor, Laurelhurst, Madison Park, Windermere, and all other neighborhoods.