Seattle Wine Cellar Refrigeration Systems – Significance, Types, and Brands
Efficient Seattle Wine Cellar Refrigeration Systems –
Significance o
f
Proper Wine Storage
Wine is a delicate kind of beverage.   Environmental elements such as heat, humidity, vibration, light, and even odor can significantly affect wine.  Keeping wines safe from these external factors helps achieve optimum wine aging and preserve the delightful taste and smell of wine. 
Wine collectors in Seattle recognize this need, and the demand for an efficient climate-controlled wine cellar is growing.  Therefore, installing the right wine cellar refrigeration system is very important!
When planning to build residential or commercial wine cellars in Seattle, you need to work with a wine cellar expert to ensure efficient wine cellar cooling.  Our team at Custom Wine Cellars Seattle has the technical know-how and skills needed to achieve effective refrigeration for residential and commercial custom wine cellars. Trusted manufacturers supply us with high-grade wine cellar cooling units. 
Different Types of Wine Cooling Systems to Choose From
Self-Contained Wine Cellar Cooling System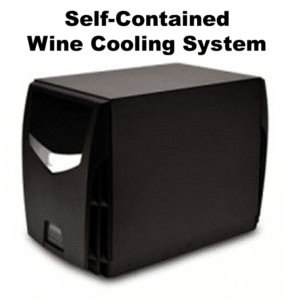 This type of cooling system is the least expensive and easiest to install.  The unit comes in one-piece.  It is mounted through the wall and vents on the wall.
If installed on an interior wall, this choice of cooling system requires a separate room where hot air can be exhausted.  It can be a garage, a furnace room, or an unused part of a basement.  If installed on an exterior wall, just make sure to choose a model that can function effectively at temperature levels of up to 105 degrees Fahrenheit. 
Ductless Split Wine Cellar Cooling
Sy
s
tem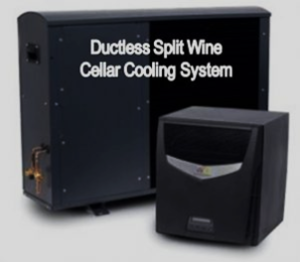 The ductless split system if recommended if you do not want to worry about venting.  It is composed of two parts – the evaporator and condenser.  These two components are connected by a line set (electrical wiring and small copper tubing).
The evaporator is installed in the wine cellar while the condenser, the part that releases hot air, is installed in a separate room.  This eliminates fan noise and heat inside the wine cellar.
Ducted Split Wine Cellar Cooling System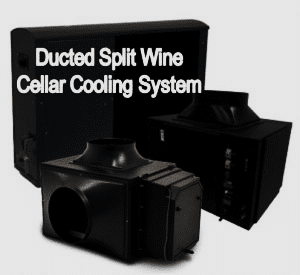 This is a popular choice for Seattle wine cellar refrigeration experts because the evaporator and condenser can be installed in a separate room.
Therefore, more space is available, and no equipment is visible inside the wine room.  The ducting system serves as the route of cold air passing to and from the wine cellar.  
Ducted Self-Contained Wine Cellar Cooling Systems
The ducted self-contained

Seattle wine cellar refrigeration system

is recommended for wine cellars of any size.

 

It is composed of the evaporator, condenser, fans, controls, and compressors.
The unit is placed outdoors, and it is connected to the grill on the inner wall through an insulated flexible ductwork.
Trusted Wine Cellar Refrigeration Brands 
Wine Guardian Wine Cellar Cooling Units – Superior Performance
One of the best Seattle wine cellar refrigeration brands in the industry is Wine Guardian. Their design and technology ensure a stable climate-control system without sacrificing style. 
Wine Guardian cooling systems are tested and proven to deliver superior performance.  This means they can consistently maintain the ideal temperature (55-65oF) and humidity levels (60-70%) inside the wine cellar. 
Wine Guardian is also known for the quite operation and energy efficiency of their refrigeration systems.  The commercial-grade units are available in various types including self-contained, ductless split, ducted split, and ducted self-contained refrigeration units.
WhisperKool

Refrigeration Systems

– Maximum Power and Cooling Performance

WhisperKool is another great brand of wine cellar cooling unit recommended by master builders in Seattle.  They are known for their maximum power and cooling efficiency.  They are a popular choice for locations where extremely high temperature and humidity can be experienced.  
The WhisperKool SC Series are self-contained wine cellar cooling units that are considered one of the most economical wine cooling solutions.  The WhisperKool Slimline 2500 models are ideal for smaller sized wine cellars or wine closets.  They are a low-profile type and can be installed above the wine cellar door. 
Both the SC and Slimline series are in demand for interior installations because they come with a liquid measuring thermostat.  This feature helps maintain the ideal wine cellar temperature.
CellarPRo

Wine Cellar Refrigeration Systems

– Quiet Cooling Systems

CellarPro is recommended by many wine cellar builders and wine cabinet manufacturers in Austin because they have some of the quietest cooling units.  Their products are ideal for many wine storage facilities including closets, humidors, cabinets, cupboards, residential wine cellars, and commercial wine storage and display applications.
CellarPro's self-contained wine cooling systems feature variable humidity control and fan speeds. They feature adjustable electronic temperature and humidity controls. They are designed to perform well in locations with very high temperatures.  
The ductless split wine cellar cooling units by CellarPro are quiet, stylish, and reliable.  They are designed for wine cellars measuring 300 to 2,000 cubic feet.  Large openings are not required when installing wine cellar cooling unit split type by CellarPro.
Let's Get Started with your
Seattle
Wine Cellar
Refrigeration
Project!
Are you planning to build your own wine cellar?  Do you want to start installing a wine cellar cooling unit? Contact Custom Wine Cellars Seattle now for a free consultation!
We have been in the wine cellar industry for 14 years now, and we are already a member of the Wine Cellar Designers Group.  This is a group of wine cellar designers who work together to maintain and promote the standards in creating efficient and high quality custom wine cellars.